Wellness Wednesday: Cherries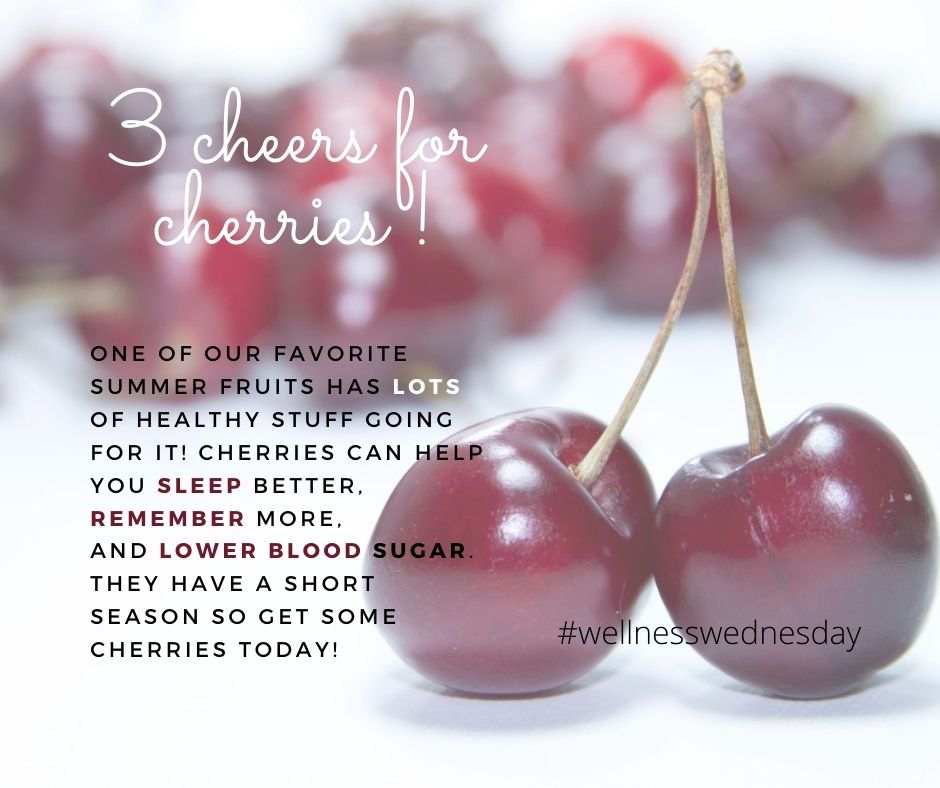 Cherries are delicious & nutritious!
When cherries start showing up in the grocery store in the summertime, I get excited. They might be my favorite summertime fruit and I usually have a big bowl of them sitting in my refrigerator, ready to eat whenever a snack attack hits. I've been known to eat quite a lot of them in one sitting! Like maybe half a bag. (This is an expensive habit!)
Turns out that cherries are packed with some nutritious stuff. They contain an antioxidant called anthocyanin (blueberries, blackberries, cranberries, and strawberries also have it), which can help relieve arthritis symptoms and decrease inflammation in the body, as well as reduce blood sugar and lower the risk of heart disease. Wow!
Tart cherries (the kind that are in cherry pie) aren't as easy to find fresh in grocery stores (they're often found in the frozen food aisle), but they're very healthy too. Tart cherry juice can help you sleep at night — I like mixing a little juice in a glass of water (it's not as tart that way!) and drinking it before bed — and also helps reduce inflammation. Dried tart cherries are a wonderful snack but beware — they usually have added sugar and the calories can add up if you're not careful.
My favorite way to enjoy cherries is straight from the bowl in my fridge, but they're also good in salads for lunch or on a bowl of granola for breakfast. I also like to make a relish with them and serve it with grilled pork or chicken. What I do is coarsely chop a cup of pitted cherries (it's very messy pitting cherries! No fun!) and mix them with 1/4 cup finely chopped red onion, 1 seeded, minced jalapeno chile, 1 tablespoon honey, juice of 1/2 a lime, 1/2 cup chopped fresh cilantro, and a little salt and pepper. If you want some "crunchy" in the relish, little diced celery does the trick.
How do you like to eat cherries? Tell me about it on our Facebook page or Instagram feed.