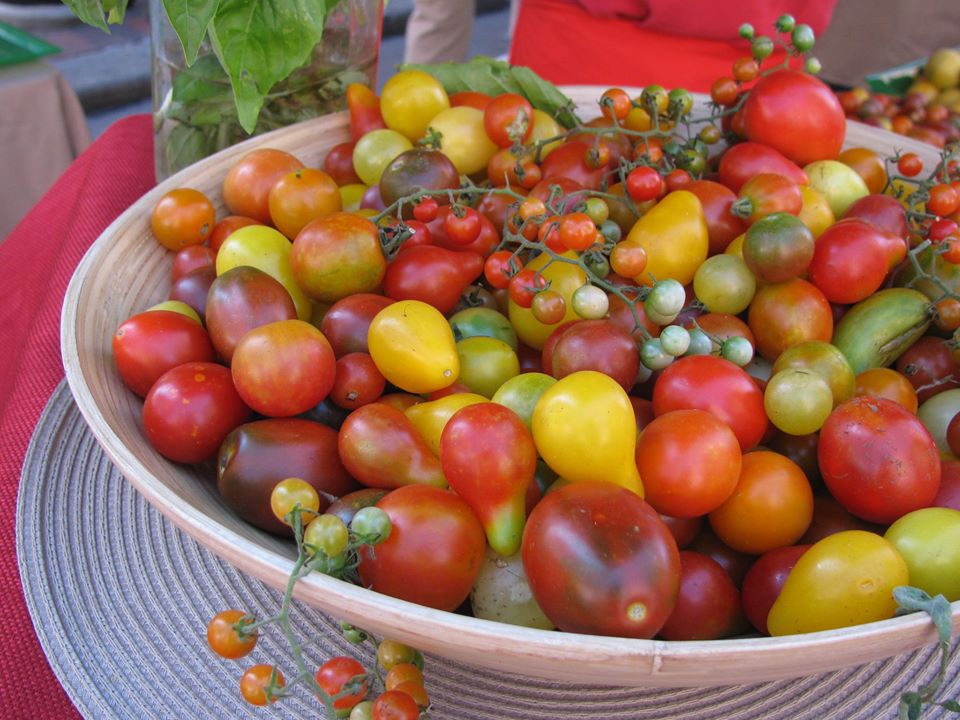 Tomatoes are one of our favorite summer vegetables (but really, it's a fruit!), and there's nothing like a vine-ripe tomato in July or August. Did you know these fun facts about tomatoes?
Tomatoes originated in South America and were first used as a food by the Aztec Indians of southern Mexico — no wonder traditional Mexican food uses a lot of tomatoes!
Tomatoes are high in vitamins A and C and are a good source of lycopene which is good for the heart and may help prevent some forms of cancer.
Cooked tomatoes are actually a little better for you nutritionally than raw tomatoes — but you can't go wrong with either of them!
Red is the most common color of tomatoes but there are also yellow, orange, green, purple, black, white, and pink varieties! Some of these varieties are called "heirloom" and they can have some really cool names like Cherokee Purple, Brandywine, Green Zebra, Mr. Stripey, and Black Krim. Heirloom tomatoes are usually only available in the summertime and are most easily found at farmers' markets.
Tomatoes are available year-round but summer is their time to shine. Winter tomatoes are either grown in hot houses or shipped from far-away places. You can grow tomatoes in your own backyard or on a patio in a pot in the summertime!
Choose tomatoes, either from the store or farmers' market, that are deep red (if that's the color of the variety — they come in lots of colors, see above!) and firm but not hard. If they have some of the stem still on them, great! If not, that's okay too. Keep them on your counter top until you're ready to eat them — storing them in the fridge changes their texture a little bit. But if you can't eat them right away, keep them in the refrigerator.
You can freeze tomatoes too! Just put them whole into a plastic freezer bag and freeze solid. Frozen tomatoes can't be eaten in salads (they'll be too mushy) but you can add them to soups and stews. Just plop a frozen tomato in the soup or stew pot and break it up with a spoon once it's softened.
LCE has LOTS of tomato recipes on the site! From BLT Wraps to Cheeseburger Pizza and Greek Tomato Salad (and everything in between!), we've got your tomato cravings covered. Members, be sure to check out a tomato recipe or two while the gettin' is good! Not a member? Join us! We'd love to cook with you this year!