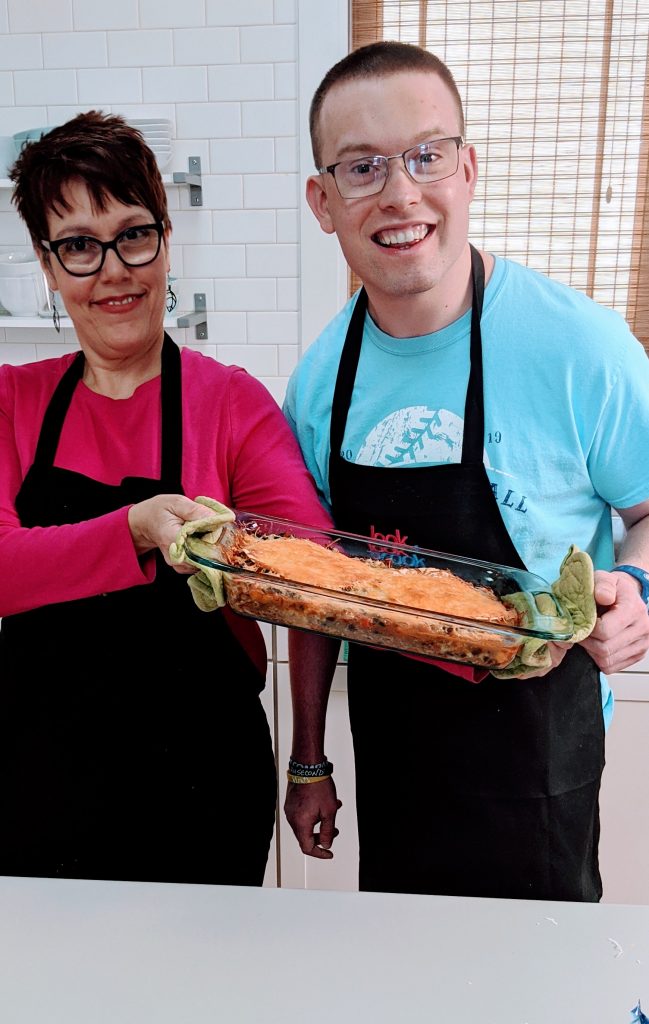 I can't think of anything better to celebrate a Tuesday than to make this original recipe from Joel Campbell for Taco Lasagna! I am so glad Joel came down to the LCE studio today and showed us how to make his signature. He was generous enough to let us share the recipe with you, so here you go — it's super simple and really delicious! Make it yourself to see!
1 pound lean ground beef (you could also use ground chicken or turkey)
1 cup frozen bell pepper and onion stir-fry mix
1 envelope (1.25 ounces) taco seasoning
2/3 cup water
1 can (14.5 ounces) black beans, drained and rinsed
1 can (10.5 ounces) Rotel diced tomatoes (tomatoes with peppers and onions)
6 (8-inch) flour tortillas
1 can (14.5 ounces) refried beans
3 cups shredded Mexican blend cheese, divided
Preheat the oven to 350°F. Coat a 9×13-inch baking dish with nonstick spray and set aside. In a large nonstick skillet, brown the ground beef and bell pepper mix over medium heat (4 or 5 if your stove has numbers). As it cooks, use a spoon to break the meat into little pieces (Joel has a cool tool that he uses for this called a "meat crusher." Sounds scary but it's great! Find it here.) Cook until the meat is no longer pink. You may need to drain the meat to get rid of the fat — if you do, try Joel's trick of pouring it into a strainer or colander set over the sink. (We really like this strainer, in case you're in the market for one.)
Sprinkle the taco seasoning over the meat, then add the water. Stir and simmer the meat mixture for two minutes, then add the drained black beans and the tomatoes. Remove the pan from the heat (turn off the burner).
To assemble the lasagna, place two tortillas in the bottom of the prepared baking dish. Spread half of the refried beans over the tortillas, then spoon half of the meat mixture over the refried beans. Sprinkle with 1 cup of the shredded cheese. Repeat layering with two more tortillas, the remaining refried beans, and remaining meat mixture. Sprinkle with 1 cup cheese, then top with the last two tortillas and the last 1 cup of cheese.
Put the lasagna in the oven and bake for 25 to 30 minutes or until the cheese is melted and the casserole is bubbly. Take the casserole out of the oven (Joel uses these cool oven mitts to take things out of the oven. They're a lot less bulky than regular oven mitts and so much easier to use, especially if you have some mobility and dexterity issues like Joel does). Let the lasagna stand for 5 minutes before cutting into pieces and serving. Joel likes to serve the lasagna with Spanish-style rice or a green salad.
Makes 6 to 8 servings