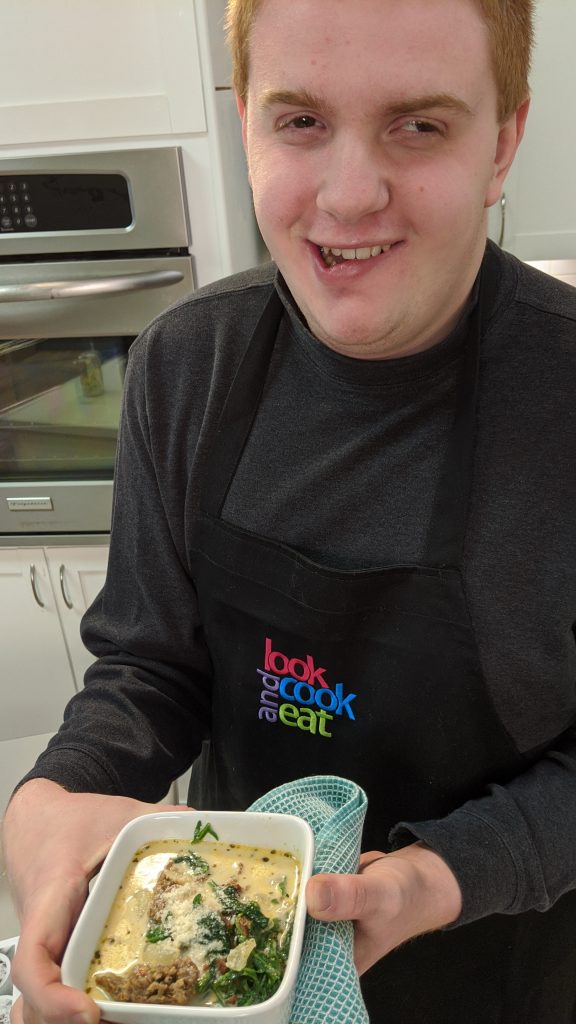 If it's freezing where you are (and I'm willing to bet that it is), there's nothing better than a bowl of soup to help warm you up. We have lots of soup recipes in our collection, but this is a new one, and I can't wait to get in the studio and film the video and shoot the photos for it — it belongs on our site! It's super-simple and tasty, perfect for a day like today (10 degrees and icy). It calls for gnocchi (say "nyo-key"), which are Italian potato dumplings — find them in the same aisle at the store as you find dried pasta. You can also use parcooked potatoes instead, which are in the dairy case near the bacon and eggs. For additional flavor, try adding sliced mushrooms to the sausage mixture at the beginning, or some drained canned tomatoes with the broth. So many options! Here's how to make it:
1 pound bulk Italian sausage
1/2 cup chopped onion
2 cloves garlic, finely chopped
1 tablespoon dried Italian seasoning blend
1/2 teaspoon crushed red pepper flakes (optional)
1 carton (32 ounces) low-sodium chicken broth
1 package (16 ounces) potato gnocchi
3 cups fresh baby spinach leaves
1 cup heavy cream or half-and-half
Grated Parmesan cheese
Put a soup pot or large saucepan on the stove. Turn the burner to medium-high. Add the sausage, onion, garlic, Italian seasoning, and pepper flakes. Cook until the sausage is no longer pink and the onion is clear, stirring often with a wooden spoon and breaking up any big pieces of sausage into bite-size chunks.
Add the broth and gnocchi, put the lid on the pot, and reduce the heat to medium-low. Simmer for 5 minutes, then add the spinach leaves and cream. Simmer for 1 minute. Serve with Parmesan cheese sprinkled on top.