I love baking at Christmastime. (TBH, I love baking ALL the time.) But there's one classic holiday cookie that I simply won't make — gingerbread cutouts. I HATE decorating them. It takes a lot of time and is so messy. But this year, these cookie bars will definitely be on my to-bake list. It was awesome to bake them with Charlie yesterday in the LCE kitchen. If you didn't get a chance to see us, check out our Facebook live segment.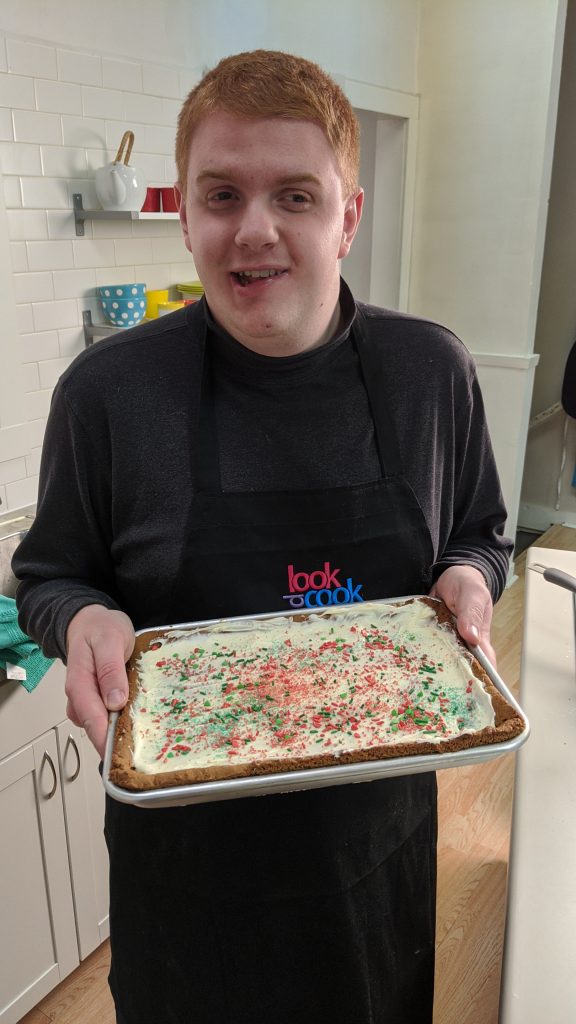 1 stick butter
1 1/2 cups brown sugar
1/2 cup sugar
1/3 cup molasses
1 egg
1 teaspoon vanilla extract
2 cups all-purpose flour
2 teaspoons baking soda
2 teaspoons pumpkin pie spice (or apple pie spice)
1/2 teaspoon salt
Purchased white or cream cheese frosting
Holiday sprinkles!
Preheat the oven to 350 degrees. Coat a 9 x 13-inch baking pan with nonstick spray (I like using special baking spray — find it with the other nonstick sprays at the grocery store).
Melt the butter in a large saucepan over medium heat. Off heat stir in the brown sugar, sugar, molasses, egg, and vanilla. Add the flour, soda, spices, and salt, and mix until incorporated (dough will be very stiff).
Spoon the cookie dough onto the prepared baking pan, then pat it out with your hands until it covers the baking sheet. Bake the cookies for 15 to 20 minutes or until set and slightly firm (it's a little hard to tell when the bars are done, but 20 minutes max should do it). Remove the bars from the oven and let them cool completely on a rack. (Don't forget to turn the oven off!)
When cool, frost the bars with some of the frosting (how much you use is up to you), then sprinkle generously with holiday sprinkles of your choice. Festive!