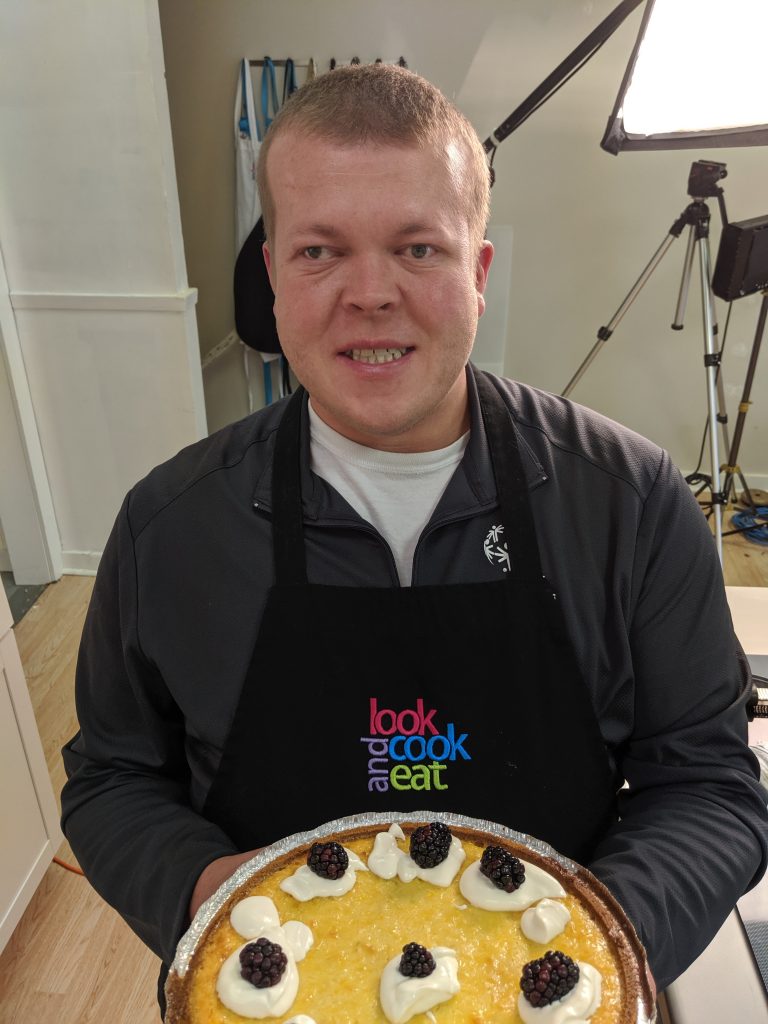 I had so much fun with Matthew Johnson yesterday in the LCE studio! His sweet corn pie entry from this year's Iowa State Fair Super Special Corn Creations cooking contest is unusual and delicious — he'd love to share the recipe with you.
Makes 10 servings
Takes about 1 1/2 hours to make
1 (15 ounce) container Mexican Sour Cream (look for this at Walmart or Hispanic grocery stores; do not use regular sour cream)
1/2 cup sweetened condensed milk
3 eggs
3 tablespoons sugar
1 bag (10 ounces) frozen super sweet corn, thawed
1 tablespoon vanilla extract
Zest and juice of 1 lime
1 (10-inch) prepared graham cracker crust
Fresh blackberries or blueberries for garnish
Preheat the oven to 350 degrees with a rack in the center. Place all but 1/2 cup of the sour cream into a blender carafe (reserve the 1/2 cup sour cream for garnish). Add the sweetened condensed milk, eggs, sugar, corn, and vanilla. Cover the carafe and blend at medium speed for 1 minute. Turn the blender off, remove the lid, and add the lime zest and juice. Cover the carafe and blend for 15 seconds.
Remove the plastic packaging from the pie crust and place the crust on a baking sheet. Remove the cover from the blender and carefully pour the filling into the crust (you may not use all of the filling in the pie). Carefully slide the baking sheet and pie into the oven.
Bake the pie for 45 minutes (set a timer so you don't forget). When the timer goes off, check the pie for doneness by inserting a knife into the center — if it comes out clean, it's done. If it's a little gooey, bake the pie for another 10 minutes. When the pie is done, turn the oven off and let the pie sit for 15 minutes in the oven. Remove the pie and let cool on a rack until room temperature. Cut into wedges and serve with a dollop of reserved sour cream and a few fresh berries.