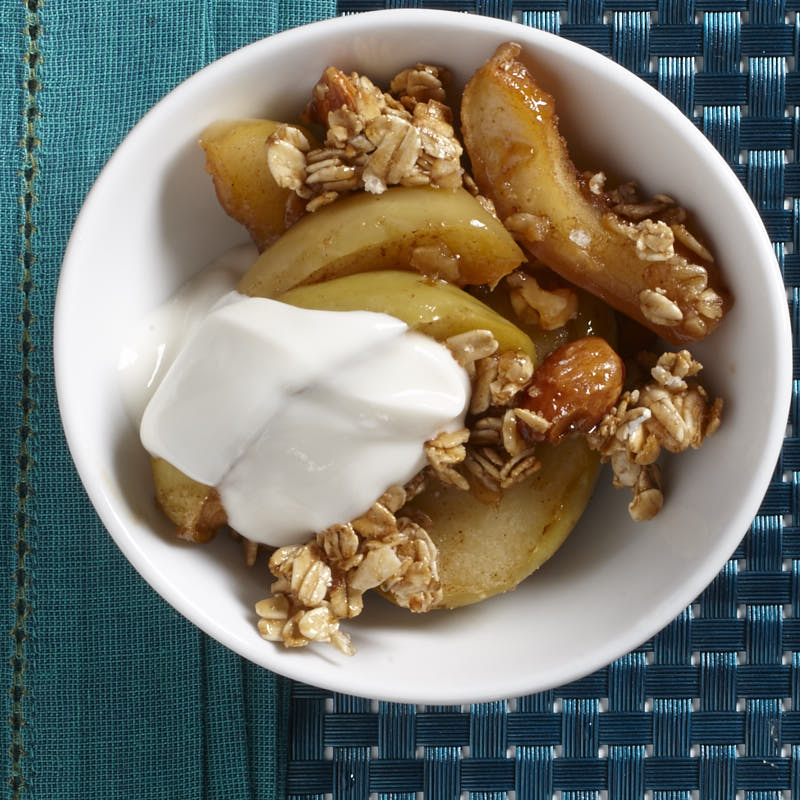 This is a great dessert any time of year, but it's especially awesome during the fall when apples are in season. Check out the video below on how to cut an apple — but if it's still too scary or difficult, use presliced apples from the produce section.
Makes 4 servings
Takes 45 minutes to make

2 of your favorite apples (Braeburn or Honeycrisp are good), cored and sliced (or use a 14-ounce bag of presliced apples)
¼ cup packed brown sugar
1 teaspoon vanilla extract
¼ teaspoon ground cinnamon
2 tablespoons butter
1 cup prepared granola
4 tablespoons lowfat vanilla yogurt (regular or Greek-style)
Preheat the oven to 375°F. Coat a baking dish with nonstick spray and set it aside. Put the apples into a big mixing bowl, then add the brown sugar, vanilla, and cinnamon. Mix everything together with a rubber spatula or spoon.
Pour the apple mixture into the prepared baking dish. Use your fingers to put little pieces of butter on top of the apples — this is called "dotting" because the butter looks like little dots. Put the pan of apples into the oven and bake them for 25 minutes (set a timer so you don't forget).
When the timer goes off, use the hot pads to carefully pull the rack halfway out of the oven. Carefully sprinkle the granola on top of the apples — be careful, though, the pan, rack, and oven door are very hot. Carefully push the rack back into the oven and bake the apples for 15 more minutes (set the timer again so you don't forget). When the timer goes off the apples should be bubbly and the granola a little bit brown on top. Use the hot pads to take the pan out of the oven and put it on a towel on the countertop. (Turn the oven off.) Scoop some of the apple crisp into bowls to serve. Top each serving with a tablespoon of vanilla yogurt.
Nutritional Facts per serving: 301 calories; 118 calories from fat; 13g total fat; 16g cholesterol; 231mg sodium; 41g carbohydrate; 5g protein
Learn how to safely and easily cut an apple in this video!