Sue's Incredible Chocolate Birthday Cake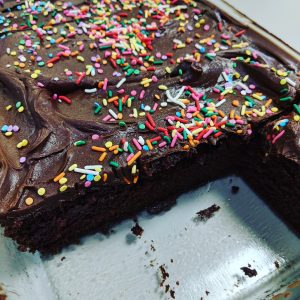 Thanks, everyone, for showing up for my birthday celebration on Monday during Facebook Live! And thanks to Charlie for his help in the kitchen — always love having him here. As promised, here's the recipe for the chocolate cake that he and I made together. It's a GREAT cake, so easy and much better than a mix. The frosting is just the recipe off the container of Hershey's cocoa powder — it's quite delicious and very fun to swirl and load up with all the sprinkles!
If you make this cake for a special occasion (like, let's celebrate Tuesday!), be sure to post a photo of it on our site or on Facebook! We'd love to see your masterpieces! (But you'll love eating it even more than we love seeing the photos!)
Incredible, Easy Chocolate Cake
3 cups all-purpose flour
2 cups sugar
1/2 cup unsweetened cocoa powder
2 teaspoons baking soda
1 teaspoon salt
2 cups hot water
3/4 cup vegetable oil
2 tablespoons white vinegar
1 tablespoon vanilla extract
Preheat the oven to 350 degrees with a rack in the center. Spray a 9-by-13-inch baking pan with nonstick spray (we used the spray specially formulated for baking — it has a little flour in it so those with gluten sensitivities can't use it. It's great for cakes and cookies!).
Whisk the flour, sugar, cocoa powder, baking soda, and salt together in a large mixing bowl. Combine the hot water, oil, vinegar, and vanilla in a large cup with a pour spout. Add the water mixture to the dry ingredients and whisk to blend — a few lumps are a-okay. Pour the batter into the prepared pan and bake until a toothpick inserted in the center of the cake comes out clean, about 30 minutes. Remove the cake from the oven (turn the oven off) and let it cool completely in the pan on a towel or a wire cooling rack. Meanwhile, make the frosting.
Simple Fudge Frosting (recipe courtesy of Hershey's Cocoa Powder — it's on the back of the container)
1 stick butter
2/3 cup unsweetened cocoa powder
3 cups powdered sugar
1/3 to 1/2 cup milk or heavy cream (I used cream because I had it but milk is just fine)
1 teaspoon vanilla extract
Pinch of salt
SPRINKLES!!!
Melt the butter in a saucepan over medium heat. Remove the pan from the heat (turn the burner off) and add the cocoa powder; whisk until well blended. Add the powdered sugar, milk, vanilla, and salt. Stir until smooth, adding more milk if necessary to make the frosting spreadable. When the cake is cooled, scrape the frosting out of the saucepan with a spatula and spread it all over the top of the cake to cover. Sprinkle the top with as many sprinkles as you can handle! Happy birthday! (Or Tuesday! Whatever!)